5 Festive & Fun Holiday Proposal Ideas
Trying to plan the perfect proposal this holiday season, but don't know where to start? The holidays are the perfect time to ask someone to be yours forever! There is something in the air that just makes every day feel magical! And let's not forget the beautiful snow topped trees and twinkling lights or beautiful decorations creating the perfect backdrop to your perfect moment! You can plan a picture perfect proposal that she (or he) will remember forever! Are you ready to pop the question? Here are some festive ways to propose this holiday season!
1. Cozy Holiday Evening
Surprise her by planning a cozy evening together, complete with hot chocolate, her favorite holiday movie, and a crackling fire in the fireplace. She'll appreciate the gesture of a romantic evening alone but won't be expecting you to pop the question, making it a surprise she's sure to remember!
2. Say It In Icing
Set up a fun afternoon of cookie baking!  Choose her favorite cookie recipes and spend some time together creating sweet treats! 
Once the baking is done, it's time to decorate and perhaps write a sweet message in the icing that will surprise and delight her? It's sure to be a story she loves telling her friends and a memory you will both treasure! (But if you've never dabbled in cookie decorating, maybe practice your handwriting skills to be sure your message is legible!)
3. Surprise Her in Song
Have a few friends who can carry a tune? Ask them to stop by one evening and do a little Christmas caroling. If she has a favorite holiday song, put in a request to make sure it ends up on the set list! When the doorbell rings, all you have to do is act surprised and she'll think they're just out having a festive night of caroling - until you drop to one knee and ask her to be yours!
4. Start a Tradition
Tell her you want to start a new holiday tradition of the two of you creating a new ornament together each year! She'll think your being sweet and will probably be excited to be starting a new tradition. Have a plan (perhaps some puff paint, glitter, and red or green glass bulbs?) in place so you can both create an ornament and use your ornament to pop the question! This will be a great way to start a new tradition and you'll talk about it every year when you create new ornaments and hang the previous years' baubles on the tree!  
5. A Slippery Proposal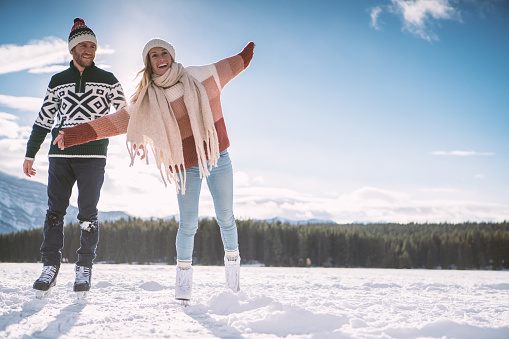 Take her ice skating - a holiday classic! Pick out your favorite cozy sweaters, hats, and gloves and hit the rink! Ice skating is a great excuse to hold her hand and laugh together. Pretend to fall (or really fall, just be careful!) and while you scramble to get up, surprise her on one knee and ask to share your future with her!
Ready to pop the question? Shop our beautiful selection of engagement rings and wedding bands now!
---