Accessorize Your Little Black Dress on a Budget
A little black dress is a look that never fails! I own two of these dresses and wear them year round, from holiday parties to nights out at a fine restaurant to cocktail parties. But even though I'm wearing the same two dresses over and over, I want my overall look to be different. Accessories are the best friend to your little black dress! And while shoes, wraps, bags, and hairstyles, all influence your look, so does your jewelry! Here are some great accessories to keep your little black dress fresh without hurting your pocketbook!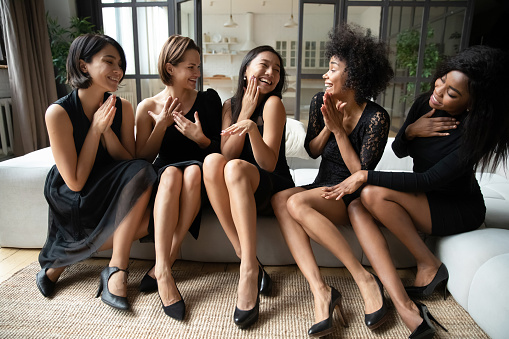 Sterling Silver 8 mm Synthetic White High Luster Pearl Stud Earrings
Your black dress tends to be simple, so it can take more "aggressive" accessories than most looks, like these large, high luster pearl earrings. No one will suspect these beauties are man-made, and at this price, you can't go wrong! Plus, pearls will instantly make you feel like a classic beauty, channeling your inner "Jackie O".
Sterling Silver Gold Plated Halo Cushion Cut Champagne Cubic Zirconia Ring
I love wearing a sparkly cocktail ring but I don't get to do so very often. I have three or four in my jewelry box and it is an exciting day when I get to pull one out and show it off. This ring is one of my absolute favorites! The Champagne color stone always pulls compliments and the sparkle is stunning! Again, your little black dress can handle bold accessories, so don't be shy and show off!
Marcasite & Sterling Silver Bracelet
I'm just going to say it - marcasite stones are underappreciated! These beauties can range between a dark, smoky gray to a sparkly black and always look stunning with silver jewelry! This bracelet is a little "heavier" than the bracelets I tend to wear every day, but the glittering black stones and bright shining silver look stunning against a black dress. If you haven't worn marcasite stones before (or haven't heard of them), definitely give them a try, they don't disappoint!
Diamond Shaped Blue Topaz Quartz and Sterling Silver Pendant Necklace
 If you want to keep thing simple but still add a dash of color, consider a single a pendant necklace with a larger stone. The larger stone will add a pop or color but a single pendant on a simple chain keeps the look from being "too much." I love quartz jewelry for two reasons. First, quartz comes in so many rich, vibrant colors that you can use it to compliment any look. Secondly, it looks lovely at a price point that cannot be beat!
 Mixing metals used to be a big "no-no" but thankfully, we've moved past that old rule and realized how beautiful silver and gold can look together! These bold earrings are large in size but dainty in design, mixing more than just metals! I'll admit, I wear these with my little black dress but I also wear them to work and out to dinner - they can be dressed up or down and who doesn't lover jewelry that's beautiful and versatile?
---